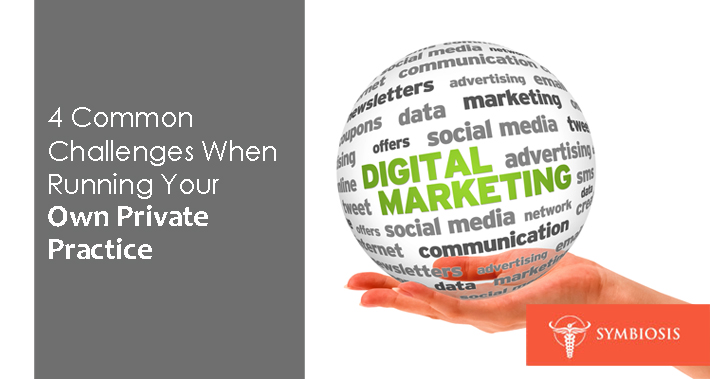 There's a lot to consider when you've made the decision to start your own private practice.
In the traditional model, there's a lot you have to do yourself, but joining a medical coworking space can help you with many of the layers involved in running your practice.
Here at Symbiosis, we've got you covered with the logistics of running your practice, like scheduling, maintenance, IT, non medical support staff, and much more, all while saving you money.
It's a great way to make starting your own private healthcare practice easier.
For now, let's find out more about four common challenges you might experience when running your own private practice.
Not Focusing On Marketing
Marketing is an important aspect of running your own private practice.
But, it takes a lot of time and energy in order for it to be effective.
You have to have a comprehensive private practice digital marketing strategy that includes an optimized private practice website, healthcare blogging, search engine optimization, gathering Google reviews, and potentially other angles.
It makes sense that you'd rather spend your day focusing on your patients instead.
After all, you went to school to become a psychiatrist, a dermatologist, a physical therapist, or whatever your healthcare focus is.
You're not a marketing specialist – you're a healthcare provider.
How Symbiosis Can Help
Symbiosis offers comprehensive and customizable digital marketing plans in addition to our medical coworking space and other healthcare private practice solutions.
Our digital marketing team has over a decade of experience in helping private healthcare practices just like yours establish themselves, grow, and attain profitability.
As experts already in the medical field, we can help you with private practice digital marketing, allowing you to attract your ideal patients to your private practice and grow your practice as well.
Hiring And Retaining Support Staff
Hiring and retaining support staff is a challenge to most businesses, not just medical practices.
However, private medical practices often start off with small teams.
As a result, if one of your staff leaves, it can be a bigger impact because of the size of your team.
If this is a position you find yourself in, a staffing firm can help you to temporarily relieve the pressure from the rest of your team while you recruit their replacement.
It's also a good idea to tap your network of other healthcare providers to see if anyone you trust has a referral for the role.
Otherwise, make sure to have your application process be simple and your offer to your selected candidate compelling.
If not, you'll find yourself back at the start of what can be a challenging recruiting process.
Remember to treat your staff well by offering a good work life balance and competitive pay in order to retain your employees.
Of course, these are all tips you have to consider if you're going the traditional route of starting your own private practice.
With Symbiosis, you won't have to worry about any of that.
How Symbiosis Can Help
At Symbiosis, we can take care of your staffing needs so you won't have to spend any time on that yourself.
When you're a member of our medical coworking space, you'll get access to our front and back office staff who will take care of your reception, booking, and billing needs.
And when it comes to janitorial staff, IT maintenance, building repairs, and more? We've got you covered.
We take care of all the staffing headaches that come with running a private practice, so you don't have to.
Having A Poor Work Life Balance
Work life balance is a challenge for the medical field.
It's a demanding job that can get very busy, especially when you run a private practice.
If you're not careful, you'll find yourself burned out from your work, which is not a position you want to find yourself in.
To avoid this, be mindful of the amount of hours you work and take care of your own health, even if that means unplugging from your work during personal time.
But again, in the traditional model of starting your own private practice, it's not that simple.
You've got an expensive commercial lease or mortgage, staff to pay, and other financial obligations to worry about.
So in many cases, you have no choice but to take on more clients than you can handle, otherwise you may be in a position where your private healthcare practice is losing money.
This can lead to a decline in quality of care, eroding trust among your patients, and giving you a poor reputation in the industry.
Surely there's a better way?
There is.
How Symbiosis Can Help
At Symbiosis, you're not locked into an expensive commercial lease.
Instead, you pay only for the time you actually use in your practice.
This lets you specify which hours you work, and allows you to turn off when you're on your personal time.
By reducing your overhead, you can feel more comfortable taking that long weekend off.
After all, you work hard – you deserve it.
Difficulty Retaining Patients
Finally, it can be quite the challenge to retain patients.
People have many options to choose from for their healthcare.
As a result, they want to have a good experience and be comfortable with their healthcare provider.
That's why patient experience is so important for patient retention.
You'll also want to follow up for their feedback, so that you know how they're feeling about their experience with you.
Your website is a great place for this and can host reviews for prospective patients to see.
Plus, you can address any negative reviews online, which is a sign to many people that you truly care about their experience.
This goes a long way for improving patient retention in your private practice.
You'll also want to make sure that you offer what your competitors do in terms of electronic prescription refills, billing styles, and the ability to schedule appointments online.
Patients will stay with you if they're comfortable and happy with the convenience of your practice.
How Symbiosis Can Help
Symbiosis offers a smooth and intuitive patient experience.
From maintaining a robust web presence to seamless scheduling, your patients will enjoy their time in our space, which helps them to feel relaxed and at ease for their appointment with you.
Plus, taking care of the logistics of a medical space for you leaves you ready to give your patients your complete attention.
They will feel your full attention on them, which is what they want from a healthcare provider and will go a long way with patient retention.
Questions? Ask Symbiosis
We covered quite a bit here, but if there's something you're not sure about or want to discuss further, ask away!
Contact Symbiosis today, and take your first step toward starting your own private practice.