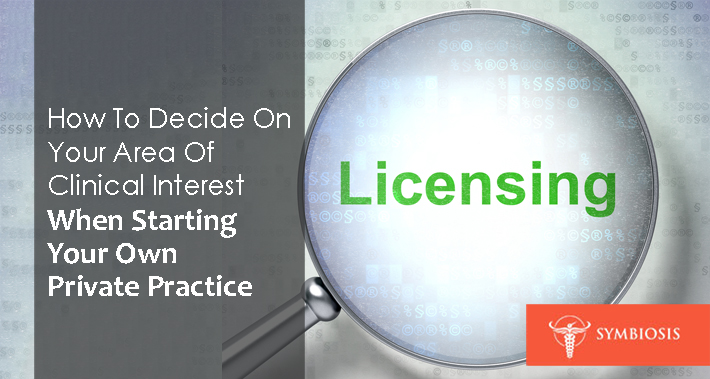 Starting your own practice can feel overwhelming.
From finding a space, to staffing, to managing accounts ; it can all feel like too much to handle.
There will be lots of decisions to make, and the first one is maybe the most essential.
The first and best place to start is deciding what kind of practice you are going to run.
Of course this decision will largely come from your field of study and interests.
What do you love to do?
What are you trained to do?
What do people need?
These are important questions that should be considered when deciding on what services your practice will offer.
But your field of study, experience, and training will dictate your scope of practice.
Your area of clinical interest is at the intersection of the type of care you're interested in providing, and what you're allowed to provide, given your scope of practice.
Here at Symbiosis, we work to help you start your own private practice in a medical coworking space.
But deciding on your area of clinical interest is a separate thing.
If you're not sure about where to start, let's take a closer look.
What Is A Scope Of Practice?
A clinician's scope of practice refers to the procedures and activities they are allowed to perform.
These limits depend on your education, training, and experience.
They're dictated by law and your licensing board.
If you go outside of your allowed scope of practice, there could potentially be legal consequences.
It's important to have a clear plan for what services you can and will provide.
Scope Of Practice vs Area Of Clinical Interest
Your ideal patients will come to you for your expertise.
Your expertise will come from what you chose to focus on in school, anything from immunology to orthopedics to pediatrics, and everything in between.
This is also true of non medical practices, like psychiatry , occupational therapy, or physical therapy.
Your patients will trust that you can solve the issues they're having, based on this education and subsequent experience.
Part of that trust is ensuring that you, and all practitioners within your practice, are acting within an appropriate scope of practice.
Not every professional in your practice is required to be a medical doctor, of course.
But those who aren't must only perform tasks within the boundaries of their own training and experience.
Having a clearly defined scope of practice, with appropriate limits on the services any non physician members of your team can provide, will help to protect your patients' health and safety.
How To Define An Area Of Clinical Interest
Regulations around scope of practice vary from state to state.
They are determined by state legislatures, and enacted by licensing authorities.
Here in Washington DC, there are different regulations for each type of healthcare provider.
However, you may be licensed to practice in neighboring states as well, like Virginia, West Virginia, Maryland, Delaware, or even Pennsylvania .
It's important to stay up to date with the state requirements around your own scope of practice, based on your training, education, and experience.
But of course, your scope of practice is just what you're allowed to offer.
You can, of course, choose not to offer every single service in your scope of practice.
Your area of clinical interest is the overlap between your scope of practice and what you're interested in offering.
But how do you choose what you want to offer in your practice?
We're so glad you asked.
How To Choose Activities Your Practice Will Offer
It's totally up to you which services you choose to offer to clients, within your scope of practice.
You may choose to offer everything you're allowed to, or you may choose to limit offerings to services that are most needed, that you most enjoy performing, or that you're best at.
Here's how to think about what your practice will offer.
1. Think About What People Actually Need
Your training and scope of practice might allow you to perform services that are quite specialized, or broader.
It's up to you to decide what you think will be the most sought after procedures.
From there, you can decide whether you want to offer services that may be less popular but more interesting to you.
Thinking about your patients' needs will also tell you how you can best use your time to serve them.
Dedicating the bulk of your clinic time to the most needed activities will be most beneficial to you and your patients.
2. Think About What You're Actually Interested In
Your goal might be to establish a healthy work life balance as a healthcare provider.
But the reality is, your private practice will take up a significant amount of your time.
One way to avoid healthcare burnout is to practice what you actually like to practice.
If there are procedures or services you like providing more than others, it's okay to focus on that.
You're at your best as a clinician when you're doing things that excite you.
And your patients get your best when you're passionate about the services you're offering.
Build your private practice website to focus on what you care about most, and you'll attract more of your ideal patients.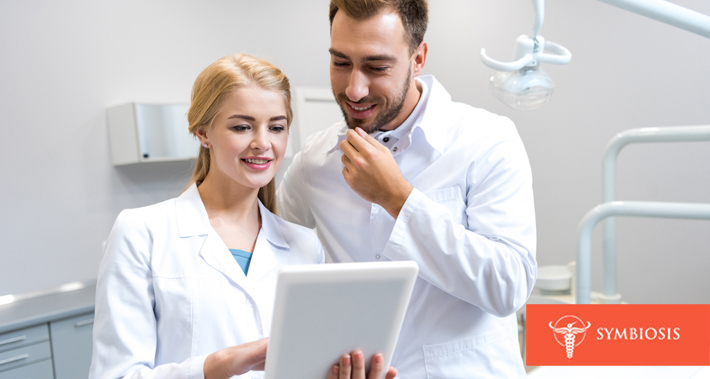 3. Think About What Doesn't Interest You
At the same time, it's ok to choose not to offer services that don't interest you.
Not every clinic with the same scope of practice will end up offering exactly the same services.
Of course, patients may go to a competing practice that offers services you don't.
But with a strong private practice digital marketing strategy in place, you should be able to attract more than enough patients to make up for it.
4. Think About What You're Actually Good At
Enjoying activities, and being good at them, often go hand in hand.
Chances are, if you're not good at certain things, they won't be your favorite.
Of course, you also want to make sure that you're offering the best treatment to your patients.
So if there's something you don't excel at, or you're not comfortable doing, consider not including it in your practice.
5. Think About The Populations You Enjoy Working With
Some procedures may be specific to certain demographics.
If there's a population you enjoy working with, or are passionate about helping, you can focus your practice on services that serve that group specifically.
Pediatrics, elderly people, and the LGBTQ+ community are all groups that often need more specialized care.
Follow your passion, and cater to a specific community, if that's what keeps you excited.
6. Remember That You Can Offer A Broad Set Of Services With A Team
You, as a practitioner, are confined to the limits of your scope of practice.
But you can include other practitioners in your practice who are allowed to offer different kinds of services.
Don't let your limitations dictate the limits of your practice.
With a great team, and different kinds of clinicians on staff, you can create a practice that offers a broad set of services to your patients.
Contact Symbiosis To Start Your Own Private Practice Today
Opening your own practice can feel like a huge endeavor.
But it's easier than you think.
Here at Symbiosis, we're a medical coworking space in Washington DC.
We'll work to simplify your practice's finances, avoid the hidden costs of starting your practice, and get you to profitability much more quickly than the traditional route.
If you're tired of your corporate healthcare job, we're here to help.
Contact Symbiosis, and take your first step toward starting your own private practice today.