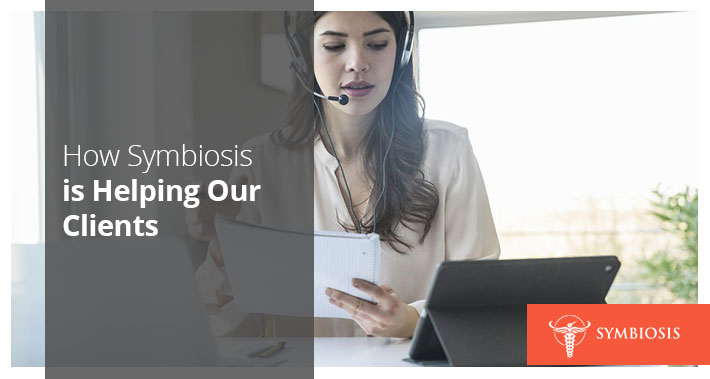 Independent healthcare practices have suffered a great deal during the current pandemic. Many have been stretched to the breaking point because they did not have the manpower or the time to continue seeing patients as well as taking necessary business and administrative measures. Now many are scrambling to set up some HIPAA compliant telehealth service or trying to apply for SBA loans.
Symbiosis has been able to provide critical and effective services to ensure that our client healthcare practices maintained a continuity of care, while shifting our client health care practices to a fully HIPAA compliant telehealth platform, and to apply for emergency loans under the CARES Act. Here is a step by step recount of how Symbiosis managed the COVID-19 outbreak while minimizing the strain on our client healthcare practices.
Symbiosis staff conducted best practices research into quarantines and maintained a daily crisis management bulletin beginning in late February. At the beginning of March Symbiosis recognized that a quarantine was highly probable and began making preparations which included the following.
On March 5, Symbiosis created and tested SOPs for our entire patient care coordination team, and started remote operations for all Front Desk staff of Symbiosis. This included making and answering phone calls from their home through Symbiosis' cloud based telephony platform. Our clients' healthcare practices were walked through how remote operations would work for the patient care coordination team.
At the same time Symbiosis' Executive Team issued strict social distancing policies for Symbiosis's 1331 H St. Locations, limiting use of the reception and walk-ins. The Executive Team also ordered new sanitization protocols for our cleaning staff on top of our existing cleaning protocols. Symbiosis staff have continued to monitor that all new social distancing and disinfection are being adhered to.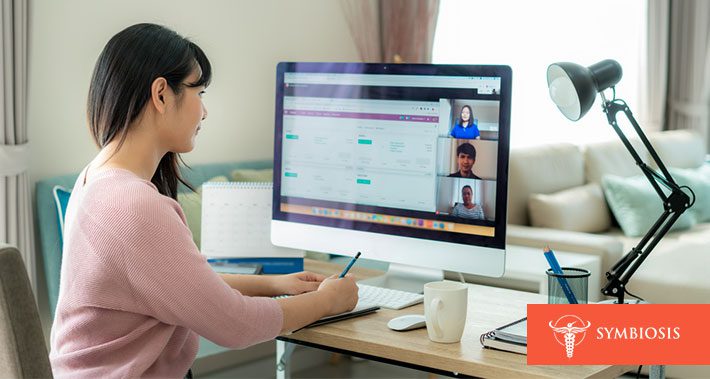 Symbiosis office software suite also includes HIPAA compliant remote work and telehealth enabled chat, web-conferencing, video chat, and cloud storage. Symbiosis ensured that our client healthcare practices were aware of these features and conducted multiple training sessions for our clients as well as stress tests to ensure smooth continuity of care.
By March 17th, Symbiosis had facilitated the transfer to full remote work and telehealth for our front offices services and most of our client healthcare practices. Symbiosis responded to regular feedback from our clients to make sure their specific needs for effective and convenient telehealth were and are being met. Symbiosis also began sending regular security updates to our clients about potential phishing and hacking attempts.
Symbiosis' Sales and Marketing team updated our clients websites to notify their patients about Telehealth availability as well as directing a round of email and text message notifications.
In conjunction Symbiosis's business and paralegal team was doing the necessary research to address the legal and business consequences from the closure of all non-essential businesses. Thus Symbiosis was able to provide current and accurate information to our clients regarding any financial and once our clients decided, Symbiosis was immediately able to apply for the SBA disaster loans and other financial aid available under the CARES Act.
By dividing the need work for crisis management most of Symbiosis' client healthcare practices were effectively prepared when the Stay-At-Home was issued on March 30 for DC, March 29 for Maryland and April 1 for Virginia. To date all of Symbiosis' client healthcare practices have experienced minimal administrative, operational, and legal issues from the Coronavirus outbreak.
Symbiosis partners with independent healthcare practices to provide integrated practice management solutions. Symbiosis' integrated practice management solutions are multi-vector driven from IT integration and streamlining and efficient employment of human capital and human resources. Symbiosis remains committed to our goals during this pandemic. If you are interested in how Symbiosis maybe able to help start of manage your private healthcare practice, please feel free to contact us.