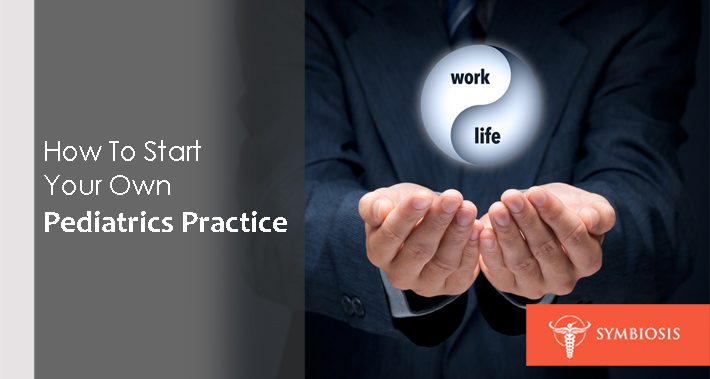 Are you a pediatrician looking for more opportunities for personal growth within your career?
Are you wondering how to start your own medical practice?
You've come to the right place.
At Symbiosis we have a passion for helping medical practitioners like you leave their dead-end corporate healthcare jobs behind and expand their careers to exciting new heights.
We want to help you achieve your dream of opening your own private practice.
In this article you'll learn more about the benefits to opening your own pediatrics practice as well as some tips that'll help you get started.
Keep reading to learn more.
Why Start A Pediatrics Practice?
The benefits for starting your own pediatrics practice are virtually endless.
Many pediatricians start their own private practice due to motivation to become their own boss.
As an owner of your own pediatrics practice, you won't have to answer to higher ups or jump through hoops to practice medicine.
Subsequently, you'll be free to focus on your own goals for your practice.
You can focus on hiring medical support staff and even fellow practitioners that reflect your professional goals and values.
Another attractive component to owning your own pediatrics practice is enjoying a better work life balance as a healthcare provider.
Dealing with healthcare burnout is a frequent issue, but you're free to set your own hours and plan your own vacations.
There are also greater opportunities for how to network with other healthcare providers, which can be a great source of referrals.
When you run your own pediatrics practice, you can also focus on attracting more of your ideal patients to your practice, focusing on the type of conditions you're most interested in treating.
Add all of this together, and the result is improved quality of care, greater satisfaction in your career, and even greater job security.
5 Things You Need To Start A Pediatrics Private Practice
Now that you know about the many benefits to starting your own pediatrics private practice, let's take a look at some factors you'll need to consider in your planning.
1. Financing
When starting your own pediatrics practice, it's important to remember not to underestimate the initial start up and operating costs.
Many first time practice owners seek financial funding from outside sources, such as banks or private lenders.
If you decide to apply for a bank loan, you should be prepared to present a solid business plan with your loan application.
Some other financial steps you should take before opening your own pediatrics practice include:
Finding the right accountant to help with taxes and other financial issues
Obtaining a federal tax ID number
Obtaining an employer ID number
Research and obtain liability, disability, workers compensation, and health insurance
This isn't a tiny concern – so much so, that we've created a three part article series on the topic.
Read more below:
RELATED: The True Cost Of Running A Clinic Part 1
RELATED: The True Cost Of Running A Clinic Part 2: Creating A Pro Forma And Financing
RELATED: The True Cost Of Running A Clinic Part 3: Licensing And Credentialing
2. A Location
Once you've gotten a solid handle on your financial planning, you can begin looking for a location for your private practice.
To get started, you should do enough research to get a good understanding of your local market and your local community.
You want to make sure that you pick a location that provides your practice with ample opportunity to grow while also staying within your budget.
Some other factors you should consider when choosing a location for your pediatrics practice include:
Accessibility (public transportation, parking, accessibility, etc.)
Proximity to potential patients
Proximity to areas your patients' parents frequent
Allied practitioners in the area
3. Technology And Equipment
Having the right technology and equipment can make all the difference for your pediatrics practice.
Medical and healthcare based software, such as electronic medical records and practice management solutions, can help you systemize your private practice so it runs smoothly and efficiently.
Before purchasing any new technology or equipment, you should make sure that you do plenty of research.
Some factors you should research before buying new technology and equipment for your pediatrics practice include:
Price of the product
Amount of training needed to use the product
Insurance for the product
How much you'll actually need said product
4. Reliable And Capable Support Staff
One of the benefits to owning your own pediatrics practice is that you can hire whoever you want.
This can, however, be a frustrating experience, as many healthcare providers aren't trained in how to operate essentially as a human resources professional.
Owning your own practice provides you with more freedom to create the workplace culture you've always wanted, but hiring and retaining the right medical support staff does have its complexities.
Consider what you want your workplace culture to be like, and work to hire people who fit that culture.
5. A Steady Stream Of Patients
Finally, when opening your own pediatrics practice, you'll have to figure out methods for obtaining a steady stream of patients.
Because there's more to attracting and retaining patient than just your medical degree, after all.
One way you can go accomplish this is by joining insurance networks.
Many parents of potential patients are a part of an insurance network.
Therefore, joining insurance networks will help you connect with those potential patients.
However, this can be a double edged sword, since you'll end up making less money per patient than if you stay out of network.
A strong private practice digital marketing strategy can help you get around this, but it takes time to build.
How The Medical Coworking Space At Symbiosis Can be Your Solution
A downtown Washington DC medical coworking space is a space where entrepreneurially minded healthcare providers get together and pool resources.
At Symbiosis, our medical coworking space can offer you the chance to network with other healthcare professionals and expand your practice to new heights.
We strive to strike a balance between the benefits of starting your own private practice vs joining an existing one , including:
The freedom to choose your own hours
The camaraderie and social network of an existing practice
The choice of scope of a private practice
The low startup cost of an existing practice
And a greater chance of success
Our goal is to help you start your practice the easy way and scale to profitability as quickly and sustainably as possible.
Questions? Ask Symbiosis!
There are a lot of factors to take into consideration when starting your own pediatrics practice.
At Symbiosis, we want to help you navigate these factors and guide you through the process of private practice ownership.
Contact Symbiosis today to find out more.