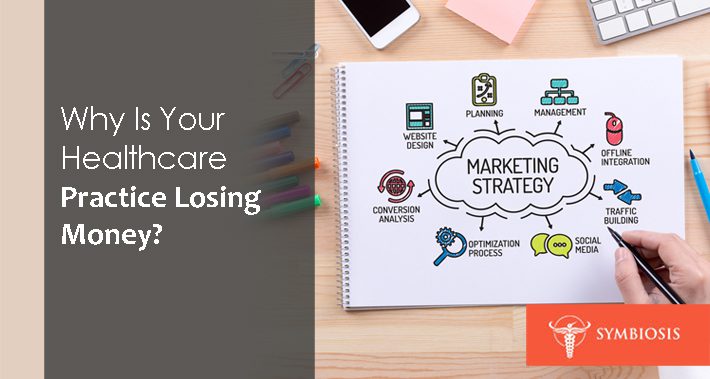 It's no secret that the past few years have been tough on businesses.
And although there is a global pandemic, bad times have hit the healthcare sector as well.
Private healthcare practices across the country have been reducing staff, seeing fewer patients.
So if your private practice is struggling, you might be tempted to just blame it on the pandemic.
But is Covid 19 really the reason your healthcare practice is losing money?
As a healthcare accelerator, Symbiosis offers advice on how to start a private medical practice to the next generation of healthcare providers.
We also offer medical coworking space as an option for those wanting to build their own practice or scale back an existing one.
There are many reasons a healthcare practice can be losing money.
Let's have a look at some of them.
1. Issues With Staffing
Poor staffing can lead to excessive overtime and can cost your practice thousands of dollars a year.
On the other hand, an understaffed clinic can lead to burnout in your medical practice staff.
You have busy seasons, but that doesn't mean you need as much staff or clinic space in the slower times.
Are they spending hours doing tasks that could be outsourced, such as billing?
Make sure you're not overburdening any one staff member.
Taking stock regularly of individual workload is a good way to keep everyone working to their full potential.
How Symbiosis Helps
We will handle the administrative tasks for you so that your staff can be fully focused on their patients.
When it comes to how to run a successful private practice, a big part of it is systemizing tasks to save time and energy.
This includes admin tasks.
A medical coworking space will allow you to avoid overstaffing as you can increase or decrease your membership when patient demand shifts.
Front office staff is shared between practitioners as well, which helps your bottom line.
We provide our front of house staff for you, so no need to worry about it.
You won't have to waste your time in tasks such as booking appointments, data entry, following up with cancellations, or dealing with insurance companies.
This will allow you to focus on what you do best, which is providing your patients with quality care.

2. Lost Productivity
Did you know that just one missing fee-for-service appointment per day can cost your business approximately $15,000 per year?
If you have a full staff scheduled during opening hours, you should be booking patients for all of available timeslots.
Look at the number of patients you see in a week and ask whether you are losing out on unfilled appointments.
Provide incentives for your staff to encourage them to maximize patient visits per week.
But while improving patient retention makes a big difference, excessive patient visits can also affect productivity.
The more frequent the visits, the less complex each service, which may reduce your hourly reimbursement.
For example, having ten patients who come in for a 15 minute consultation would mean using CPT codes with a lower reimbursement than having 6 patients come in for 30 minute consultations.
Maximize your time with each patient by looking at prescription renewals, lab tests, or any other issue that may require a second visit.
Your patients will appreciate the efficiency as you will be saving them time as well.
How Symbiosis Helps
Symbiosis can help you achieve maximum productivity for your investment.
Flexible hours through Symbiosis' coworking model mean that you pay only for the time you actually use.
As you grow, Symbiosis will grow with you, meaning you won't be left with unfilled appointment times that waste money.
3. A Poor Marketing Strategy
If you are not doing at least some digital marketing for your private practice, you are missing out on opportunities to grow your practice.
If nobody knows about your practice, how can they know to come see you?
That's where marketing comes into play.
But each of your existing patients is also an opportunity for you to grow your business.
Participating on local community pages gives you greater visibility in your area.
Asking your patients to submit reviews online (when permitted) helps new clients to find you.
Soliciting feedback will allow you to keep your patients happy and ensure they are repeat customers.
Asking for referrals from complementary practices will ensure a good ebb and flow of new patients.
How Symbiosis Helps
All of this may sound simple, but a good marketing strategy can cost you time and money.
Your website should be fresh and updated regularly.
Let Symbiosis help you market your practice using our cutting edge digital marketing tactics.
We will work with you to build your digital profile and drive more patients to your practice.
We will follow up with your clients and make them feel that their opinion is valued.
In our medical coworking space you will have access to a wide range of complementary private practices, with whom you can share clients.
We will help you to create your own referral network and accelerate your patient growth.
4. Issues With Billing
A variety of issues cause problems with billing and all of them affect your bottom line.
One of the most common ways practices lose money on an annual basis is through incorrect coding, which can lead to delayed or denied claims and reduced reimbursement.
In a busy practice, a receptionist may fail to update billing information, or a patient may walk out with their encounter form and not be billed.
Audit your receipts regularly to make sure you're not missing payments from patients.
Create a system for confirming insurance coverage from all patients, processing new claims, and following up with late payments.
And are you billing for time spent after hours fielding calls from patients, answering emails, or doing consults?
How Symbiosis Helps
If all of this seems overwhelming to you, then Symbiosis has the solution.
We help you with all your administration, legal paperwork and accounting.
We have the infrastructure you need to reduce costly errors and simplify your practice's finances.
We will reduce your admin costs while helping you to improve collections.
Our staff will take care of your billing for you while you take care of your patients.
Questions? Ask Symbiosis
If your healthcare practice is losing money, then Symbiosis has the solution you need.
When it comes to how to save money starting your own private practice, these points can make a big difference.
Cut your operating costs by as much as 50% when you use a medical coworking space.
If you want to see your private practice become more profitable and start operating at a higher level, then contact Symbiosis today.