Why Symbiosis
Starting your own healthcare practice or expanding your existing practice takes significant time and effort.  Finding a location for your practice, negotiating a lease, hiring an office administrator, setting up an EHR system and so many more timely tasks can leave an aspiring healthcare entrepreneur or a clinic owner trying to expand, feeling overwhelmed.
Time it takes to start your own practice vs. having Symbiosis do it for you :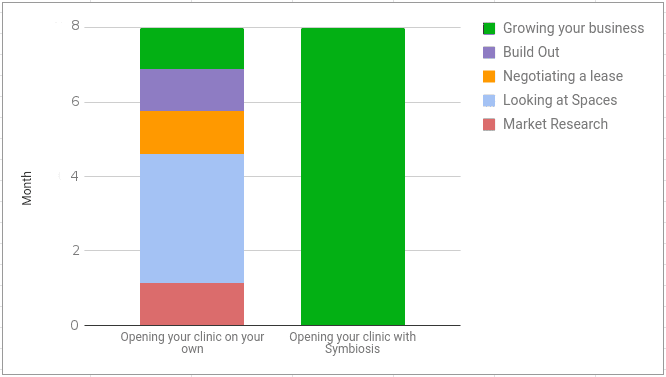 Symbiosis takes the time commitment and guesswork out of running a practice, leaving you to focus on your patients and still make a profit.  Partnering with us allows you to decrease your risks, get started right away and save money.  You won't need to apply for a huge loan from the bank and your office will already be set up and ready to go.
Time it takes to earn a profit on your own vs. earning a profit while partnering with Symbiosis :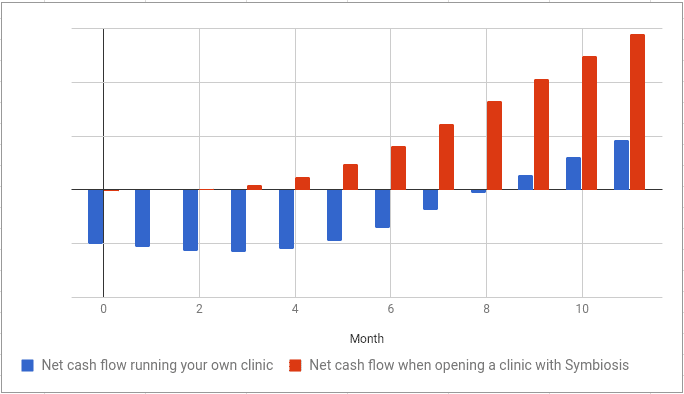 Symbiosis locations are a result of careful market study, providing your practice with the best possible combination of referring providers and patients. We do all the homework for you so you don't have to.
Our model is different from our competitors and we believe it is much more effective. At Symbiosis we don't want to tell you how to run your business or take your hard-earned profits. Our goal is to help you succeed by supplying you with the space, resources and support you need to grow your business.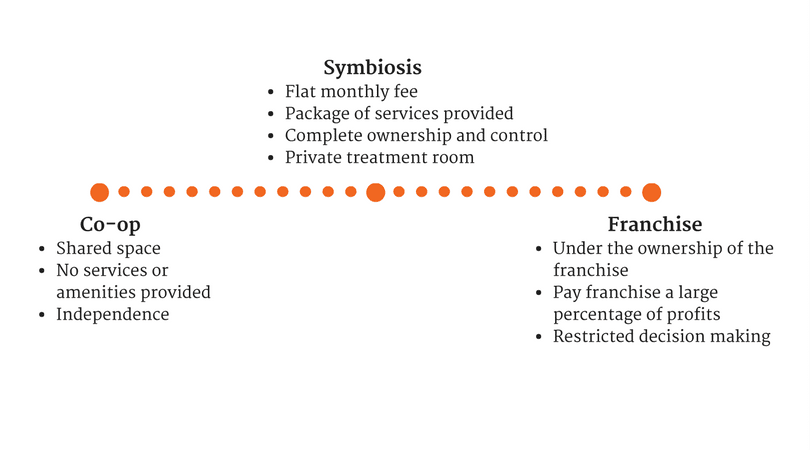 Who is a good fit for Symbiosis?
Practitioners looking to open their own clinic or existing clinic owners who are trying to expand.
What comes with a Symbiosis partnership?
For your clinic
A much shorter term contract, giving you the opportunity to evaluate your practice's model
Credentialing and contract negotiations with insurance providers
A custom website built for your practice and registered for you
Front Desk and Administrative staff
A choice of EHR software to suit your business needs
Billing and Claims Manager
Patient scheduling and follow-up
Business analytics and reporting

For your patients
Your practice's signage in the business directory outside the building as well as at the door
Private treatment rooms at any Symbiosis locations
Spacious and well-equipped rehabilitation area
Other amenities.
For Clinic Owners
Easily open a 2nd office location with very minimal overhead costs
Expand quickly and efficiently by leverage our current setup
Take advantage of our on-site front desk receptionist, and administrative staff
Use your existing software or opt to use ours
Make use of our powerful on-site community of complementary care providers