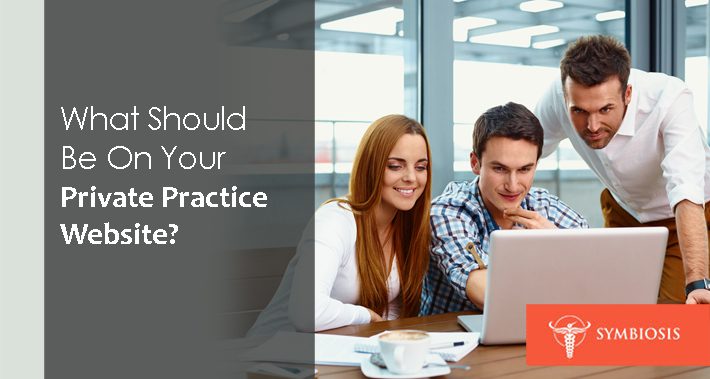 Ah, the internet.
The best and easiest way to reach your target audience.
But the days of "if you build it they will come" are long gone.
When it comes to private practice digital marketing, whether you're in a medical coworking space or going solo, there's a lot that can go wrong – and a lot that can go right.
The first step is your website – but how do you build it properly?
Let's take a look.
Do You Really Need A Website?
Facebook has nearly three billion active users worldwide.
Instagram and TikTok have about a billion active users each.
LinkedIn is no slouch either, with about 774 million active users.
With such enormous audiences on these channels, it seems like the ideal spot to market when starting your own medical practice.
But there are some drawbacks.
First of all, you're at the whims of these platforms and their terms of service.
In most cases, you can be banned from any social platform without warning or reason, and their appeals channels aren't very effective.
And Facebook especially has a particularly bizarre approach to their terms of service, especially from the perspective of a healthcare provider.
Some of things that can get you banned from Facebook include:
Using medical terminology to describe human anatomy
Citing peer reviewed psychology literature to provide support for LGBTQ2IA+ folks
Having a name that it deems to be inappropriate
Joining too many groups
Posting false information
Posting insulting content
The last two might seem reasonable, but keep in mind what qualifies as false information or insults is at Facebook's discretion.
You won't be banned for harassing a trans person by calling them the wrong gender over and over, for example.
But you will be banned for calling somebody a sweet potato.
As well, it's often the case that people aren't looking at their social media feeds when they're looking for new healthcare services.
And finally, most social channels won't display your content much unless you pay for boosted posts.
Does that mean you should forego social media entirely?
Absolutely not.
It can still be a powerful tool for growing your medical practice.
But it shouldn't be the core of your online presence.
What Should Be On Your Website?
On the other hand, you're in complete control over your website.
It's very unlikely you'll be banned from your web hosting company – meanwhile, you can be banned from Facebook for calling somebody a potato.
The visitors to your site aren't distracted by pictures of cats, their friends, family, celebrities, and their favorite artists.
You've got a captive audience – but only if they stick around.
Here's what you should have on your website, from the perspective of grabbing your users' attention and getting it ranked highly in Google.
1. A Strong, Attention Grabbing Message
When it comes to designing your website, you need to grab the attention of your audience as soon as possible.
Because even though there are no other distractions on your website, your prospective patient knows they're just a click away from fun cat videos etc.
So your website should have a strong, attention grabbing message right away.
When our digital marketing team looks at a website, they give it what they call the "two second test".
That means within two seconds of looking at your website, they should be able to tell three things:
Who you are
What you do
Why the reader should care
That doesn't mean this is your opportunity to talk about your skiing trips to Aspen and your dog Sparky.
Instead, consider the hope page for one of our partner practices, Capitol Physical Therapy.
As soon as their website loads, you see their tagline: "Washington's specialists in pain management & injury treatment solutions".
That, combined with their logo and business name, tells you exactly who they are, what they do, and why the reader should care.
If you've been injured or are dealing with pain, they can help.
2. Lots Of Informative Pages
When people build their own website, they often think they don't need too many pages.
Home, about, services, contact.
Or maybe just a single page website?
The problem is that this doesn't give the reader much to go on.
There's a wide range of different pages you can have on your site when you're a healthcare provider.
Consider the site for Capitol Physical Therapy mentioned above.
Their site has pages for chronic pain management, headaches, orthopedic health, sports injuries, senior's health, stroke recovery, and many more.
Or take another of our partner practices, District Speech.
They have pages for accent modification, cleft lip, reading impairments, stutter reduction, transgender voice therapy, and many more.
Think big! You can help with a wide range of different health conditions.
Give the people what they're looking for, and they'll keep coming back.
On top of that, Google likes to see websites with more pages.
If everything else was equal, they'll rank a website with more pages higher than a website with fewer pages.
When you write these individual pages, too, don't be afraid to go deep.
Write at least 1000 words for each page – not only does this give people just about everything they could be looking for, but Google loves to see pages with more words on them.
3. A Good Mobile Presence
Your website needs to look as good on your phone as it does on your tablet, your laptop, and your 60 inch monitor.
As of April 2021, about 55% of website traffic came from mobile devices.
So if your private practice website looks bad on a phone, you're losing more than half of your potential patients.
4. Publish Regular Blog Articles
People love reading blog articles.
There are some businesses where you might be confused as to why there's a blog though.
Who really wants to read a plumber's blog, after all?
But here's the thing – even if people never read your blog articles, search engines will.
They'll see that you're adding regular new content to your website and keeping it up to date.
They'll see that your website is growing, becoming a better source for information.
And they'll reward you with better rankings as a result.
5. Make Sure It Loads Fast
Can you imagine sticking around waiting ten seconds for a website to load?
In fact, most people won't even wait two seconds.
Why?
When we look at a website that loads quickly, we subconsciously think it's better.
We relate it to being efficient, trustworthy, and well run.
If that's a website for a healthcare provider, we forward that impression to the quality of care we'd get from the team.
A slow website, on the other hand, gives the impression that it's untrustworthy, sloppy, and potentially even unsafe.
On top of that, Google likes to see websites that load quickly as well.
So, how quick is quick?
Most websites should be able to load fully in less than two seconds, but there's no such thing as "too quick"
Work With The Professionals
If you've just started your own private practice, you might think you can manage your website by yourself.
And if you have the skills, that may be true.
But here's the thing – the more successful you are in building your website and climbing it up the search results, the less time you'll have to devote to managing your website.
And as a result, your website will slip down the search results and your source of new patients will dwindle, meaning you'll have to scramble to catch up.
On the other hand, working with a team of professionals to maintain your website will help you focus on what you're good at – providing excellent healthcare.
Private practice digital marketing is just one of the services we offer at Symbiosis.
We can help you:
If you're considering starting your own private healthcare practice, Symbiosis can help.
We'll help you lower your expenses, increase your revenue, and make it to profitability as quickly and sustainably as possible.
If you're tired of your corporate healthcare job, we can help.
Join Symbiosis today, and let us help you enjoy the freedom of running your own healthcare practice.