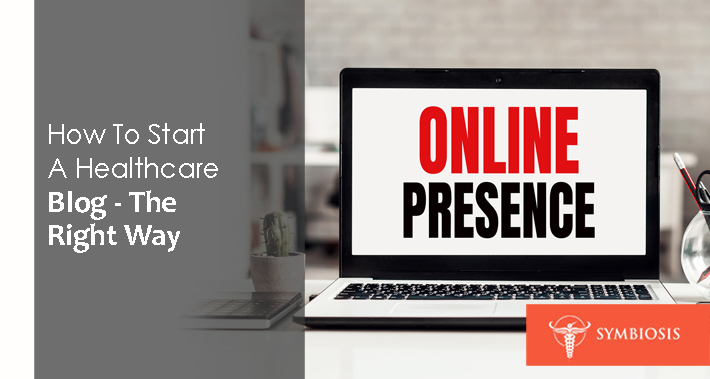 In the age of TikTok and viral videos, you might think that blogs have lost their relevance.
These days, drawing people in requires pithy, tightly edited video content that lasts 15 seconds or less, right?
Not necessarily.
A well put together healthcare blog can be a great asset to your practice or business.
In this article we'll take you through the basics of healthcare blogs, why to start one, and how to make yours great.
Not a writer?
Pressed for time?
The Symbiosis practice accelerator in Washington DC can help you build your blog and expand your online reach.
Read on to find out more about the benefits of a healthcare blog, and how to start your own – the right way.
What Is A Healthcare Blog
When you hear the term blog you might think of the personal journals that were popular in the early 2000s.
These days blogs are a great way for skilled professionals to share their specialized knowledge.
A blog – short for web log – is a collection of short to medium length writings.
While many blogs used to be stand alone websites, more recently they have become a feature of business or professional sites.
Healthcare blogs are high quality, research supported writing that make healthcare related information more accessible.
But they do more than just provide information – an effective blog is also a powerful online marketing tool.
Your blog can help you establish a name in your field, rank higher in web searches, and draw more patients to your practice.
Why Start A Healthcare Blog?
A well managed online presence is an asset for most businesses.
After all, the days of looking up an allergy clinic or orthopedics clinic in the phone book are long gone.
While word of mouth referrals are still relevant, most people will check you out online before acting on a recommendation.
Healthcare blogging is a great way to help future patients find you online and decide if your practice is the right fit.
Blogging Helps Patients Learn What You're All About
A blog gives your patients a chance to get to know your practice at no cost, and with no demand on your clinic hours.
Blog posts can communicate your area of clinical interest, the values behind your practice, and your ability to meet your patients' needs.
Blogging about joint protection and pain management will let people with arthritis know they might want to work with you, for example.
Want to specialize in LGBTQ+ care? Try writing a post about ten common health concerns for trans patients.
There are many ways to approach a single topic, and each way can communicate something new to your patients.
A series of posts about various facets of a condition you treat frequently can demonstrate your depth of knowledge.
Writing about affordable remedies or proven natural treatments can signal that you're open to certain patient populations.
Many of your future patients will look for you online before they reach out to make an appointment.
Maintaining your healthcare blog lets you create your own first impression.
Blogging Brings Traffic To Your Website
People are more likely to click on the first few links on a search results page.
Ranking highly in a search can increase the number of clicks you get and help people recognize your name.
To understand more about how blogging improves your rank in online searches, let's talk about search engine optimization.
Search engine optimization (SEO) has become an essential skill for online marketing.
SEO can seem a bit like alchemy, but it's just a little engineering mixed with a bit of business sense.
Search engines rely on advertisers for a lot of their revenue.
To attract advertisers, search engines need to maintain high numbers of users – users double as the audience for ads.
To get users to keep coming back, search engines use different strategies to provide the most relevant information.
Search engines like Google measure your website's relevance according to things like volume, last update, and keywords.
And as far as Google's concerned, the more pages you have on your site, the better.
If your site has been recently updated, it will do better than other sites that haven't been updated in a while.
If the content on your website is related to the keywords that people are searching for, your site is more likely to appear.
So, what does all of this have to do with blogging?
Blogging allows you to hit all the notes that search engines love.
Blogging allows you to add new pages to your site, make regular updates, and increase the frequency of keywords on your site.
But healthcare blogging isn't just about gaming the algorithm.
It's also an opportunity to build a connection with your patients.
Blogging Helps You Build Trust
Your prospective patients want to know that you're knowledgeable and will be able to address their concerns.
Your blog lets your patients know you understand their medical condition and needs.
Writing about several aspects of a condition can give your patients confidence that you're knowledgeable in that area.
A healthcare blog is also a great tool for patient education.
By referring your patients to your blog, you provide them with reliable information and extend your care beyond the exam room.
RELATED: How To Build Trust With Patients In Your Private Practice
What To Consider When Starting A Healthcare Blog
Okay, so we've sold you on the merits of healthcare blogging, right?
Next, let's talk about how to build your healthcare blog.
A blog doesn't need to be a huge undertaking, and there is more than one right way to build one.
In this section, we go through some of the key questions you'll need to answer as you put together your healthcare blog.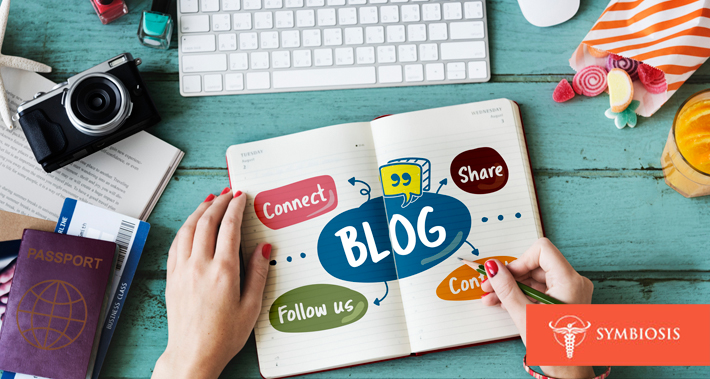 1. Who Is Your Audience?
Successful bloggers write with their target audience in mind.
To figure out who your target audience is, think about your ideal patient, or the average patient you want to attract.
Some questions to ask yourself when trying to identify your audience:
Who do you want to work with in your practice?
What does life look like for your typical patient?
What concerns does your typical patient have?
What kind of information does your patient need?
Answering these questions will help you develop a writing style for your blog, identify topics, and establish a focus.
Identifying your audience will help you answer questions about how much prior knowledge they have and how to frame your topics.
If you've started a general pediatric practice, you might choose plain language and general terms that many parents will recognize.
If you're running your own physical therapy clinic for high performance athletes, you might use more specialized language.
No matter who you are writing for, make sure to avoid jargon, and define technical terms and acronyms.
2. How Are You Going To Get Them Interested?
Once you know who you're writing for, you need to figure out how to capture – and keep – their attention.
Let's take a look at how.
Start With A Bold Headline or Hook
Writers use a variety of techniques to give their readers an appetite for more.
A strong opener jump starts your reader's curiosity by appealing to senses like curiosity or frustration, or to emotions.
Some tricks you can use to create a strong headline:
Challenge a popular but incorrect belief: Why You Don't Need To Get 10,000 Steps A Day
Focus on patient experience: IVF Treatment Is Hard – Here Are 5 Ways To Cope
Address a taboo: Answering Digestion Questions That You Didn't Want To Ask
Offer clarity: Let's Talk About The Risks and Benefits of Immunosuppressants
A headline is an opportunity to tell you reader not only what your post is about, but also how the information can help them.
Be sure to avoid clickbait titles, though – they can leave your reader annoyed and dissatisfied.
As well, if you promise a surprising revelation or a correction to common wisdom, make sure that is what you do in the article.
The opening few sentences are also a good place to get your reader invested.
Starting your post with a quote, an anecdote, or even your main message will give your reader a sense of relevance.
Make It Easy To Read
Whether you're writing for a general audience or for people who are well versed in your field, readability is important.
If your posts are long, wordy, full of complex language and unformatted they won't appeal to readers.
For the most part, people skim through blog posts looking for key information – they don't want to sift through dense text.
To create posts that are easy to read, try some of these tips:
Keep your sentences short and simple
Avoid words or phrases that the average reader wouldn't know
If you need to use medical terms or acronyms, define them
Use headings and subheadings to break up your text
Use bullet points and subheadings to organize information
Remember – you're not writing for a medical journal, you're writing for a general audience.
3. What's The Actual Point Of Each Article?
Once you have identified the overall focus of your blog and identified your audience you can start to think about content.
What are you interested in writing about?
What are your patients interested in learning about?
What will help your patients build familiarity and trust with your practice?
These questions will help you come up with topics to write about, but you may need to narrow them down some more.
Give yourself a word limit and think about what you can explain in that much text.
As you collect data from reliable sources, you might find that some of your ideas are too big for one blog post.
That's great!
A series of articles means more pages added to your website, more clicks, and better search engine results.
Plus, it demonstrates to your patients that you really know your topic and can break it down into a clear explanation.
When you narrow down your focus and stick to a plan, your readers will be able to identify a clear take home point.
This makes your articles easier to remember and gives the impression that you know how to focus on what's important.
Contact Symbiosis To Start Your Own Private Practice Today
A healthcare blog can help you build the profile of your private practices and bring in new patients.
Healthcare providers starting their own private practices juggle a lot – hiring, financing, attracting patients, and much more.
Branching out on your own doesn't mean you have to work alone.
Symbiosis can help you develop your healthcare blog and offer many other support services to make your practice a success.
Contact Symbiosis, and take your first step toward starting your own private practice today.