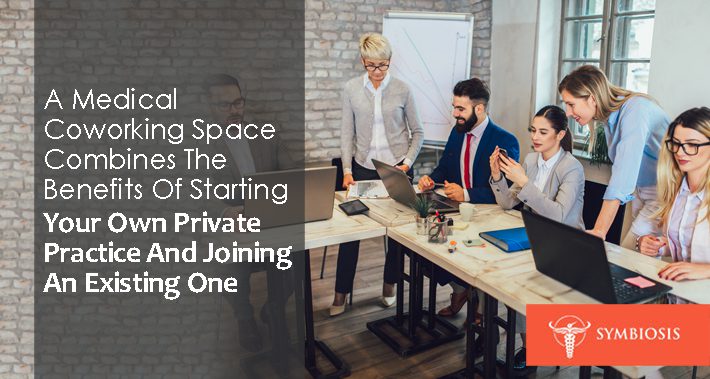 When you finish your medical residency, you'll be confronted with a variety of career possibilities to choose from.
One of the bigger choices is to decide whether you want to start your own practice or if you'd rather join an existing one.
There are benefits to either decision, but a third, less talked about path is to join a medical coworking space which combines the benefits of both options.
Here at Symbiosis, our medical coworking space in Washington DC is geared toward taking the headaches out of how to start a medical private practice.
Let's take a look at some of the benefits and drawbacks of starting your own clinic vs joining an existing one, and how a medical coworking space strikes a balance between the two.
Benefits Of Starting Your Own Medical Clinic
There are many benefits to starting your own clinic.
You get to be your own boss, and focus on executing your vision without having to compromise with others.
This includes everything from choosing your clinic location, to the area of medicine you want to focus on, and even business related tasks like choosing your private practice digital marketing strategy.
You're the decision maker.
It's ultimately on you to ensure that you manage your revenue cycle, inventory, and equipment maintenance.
You can also choose to buy new equipment in order to add a service offering if you think a new treatment is promising.
This also means that you get to set the standards that your practice lives up to; building a respected and trusted neighborhood clinic.
Plus, being in control of your own clinic gives you the power to choose who you work with and who you hire.
Now, the important part is that starting your own clinic can be very lucrative for you even though the upfront cost of starting a clinic can be intimidating.
You just need to make sure that it operates properly, and that you adapt to changing client needs.
For example, if you have a slow month, you can extend hours, offer virtual appointments, and open on a weekend to accommodate returning patients.
On the flip side, owning your own clinic makes it easier to prioritize work life balance as a healthcare provider if that's your goal.
You get to set your own hours and your own goals to work towards that can change throughout your life.
If you have kids, you can reduce your hours and then later increase them as they grow older and more independent.
The possibilities are many when you start your own clinic and so it's worth it to put in the work.
Benefits Of Joining An Established Medical Clinic
There are also benefits to joining an established clinic if you're a little intimidated at the prospect of starting your own.
Depending on the size of the clinic you join, groups are usually better able to offer health and dental insurance, administrative support with scheduling and billing, IT support, shared equipment and technology costs, as well as shared risk management.
An established clinic will also have more marketing reach and more dedicated staff to focus on that.
Working at an already established clinic can also help you to avoid burnout in healthcare, since the group setting can be easier to handle than working on your own.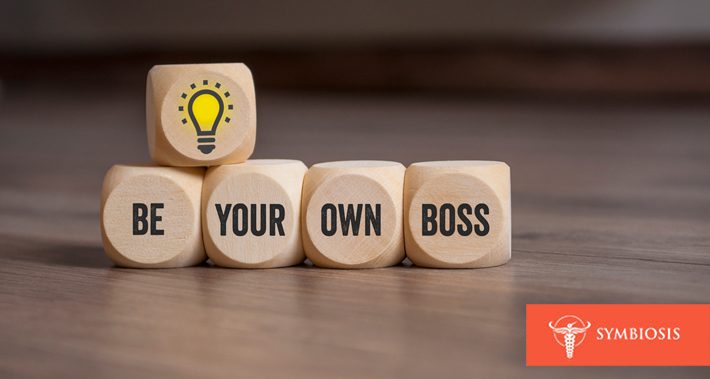 A Medical Coworking Space: The Best Of Both Worlds
Now, a third option to consider is for you to join a medical coworking space.
This will offer you the best of both worlds for a variety of reasons.
Let's find out more.
1. The Freedom Of Running Your Own Practice
Joining a medical coworking space gives you the freedom of running your own practice.
You still get to choose your own hours, take time off when you need to, and report only to yourself.
This helps to avoid burnout, and is more cost effective because you only pay for the hours of the space that you use each month.
2. The Camaraderie Of A Group Practice
Even though you'll be running your own practice in a medical coworking space, the shared atmosphere provides close contact with other allied healthcare providers.
There is ample opportunity to network with healthcare providers, exchange ideas, and refer patients to maintain mutually beneficial relationships.
This can help you improve patient retention in your practice, since your patients will come to see you as a trusted source for their healthcare needs.
It can even improve the quality of care in your practice as a result.
Plus, you only work with each other if you want to as opposed to a pressure that might be present in joining an established practice.
3. The Choice Of Scope Of A Private Practice
Since the practice is ultimately yours, you get to choose the type of patients that you work with and the treatments that you offer your clients.
If you're starting your own occupational therapy practice for example, perhaps you're mostly interested in pediatric care, or in treatments for a certain condition like autism spectrum disorder or ADHD.
If you're considering starting your own psychiatry practice, on the other hand, perhaps you only want to treat people with chronic depression or PTSD.
Whatever it is you'd like to focus on in your private practice, you can make that happen in a medical coworking space.
4. The Stress Free Overhead Of A Group Practice
A medical coworking space provides the stress free overhead of an established group practice.
You only have to worry about your monthly fee as opposed to hiring and retaining staff, revenue cycle management, IT issues, cleaning, maintenance, commercial leasing, and all the other hidden costs of building your own practice.
5. The Low Startup Costs Of A Group Practice
Finally, joining a medical coworking space entails a significantly lower cost than starting a traditional private practice.
Plus, it is still your own practice and so you get all of the revenue you make as opposed to joining an existing medical practice only as an employee.
Questions? Ask Symbiosis!
Of course, these aren't the only benefits of starting your private practice in a medical coworking space.
At Symbiosis, we're here to support your practice in every way we can.
Contact Symbiosis today to book a tour and find out more.